guides
10 Best Practices To Designing a Killer Landing Page that Drives Signup
A landing page is a digital marketing tool that tries to attract as many users as possible who could be interested in what you have to offer.
Today, it's almost impossible to grow a business in such a competitive environment without investing in your online reputation. From building an interactive website to being present on popular social media networks, businesses can't afford to neglect the power of the online world. One of the most efficient ways to engage your target audience and drive signup is with landing pages. If your goal is to increase your sales, promote your new product or attract an entirely new audience, a landing page is a tool you need.
A landing page should be carefully created so it provides your customers and prospects with all the essential information to take the following action, whether it's registering on the website, making an order or purchase, subscribing to your newsletter, etc. Besides helping you convert your target audience, landing pages are a great tool that increases your SEO traffic.
It's vital that you distinguish your business website from your landing page as their goals are not the same. A landing page is a digital marketing tool that tries to attract as many users as possible who could be interested in what you have to offer. That way, these users are at the beginning of your sales funnel and it's up to you to create additional engaging strategies that will guide them through that funnel.
So, how can you start converting your incoming traffic and encourage them to sign up? In this article, we bring you 10 best practices on how to design a killer landing page that will sweep your customers and prospects off their feet.
---
Table of contents
---
1. Creating Clear and Simple Content for Your Landing Page
If a visitor needs more than three seconds to understand what your business is about, you're doing something wrong. The words, images, fonts and the entire landing page design should be utilized in a way to convey your key message to the visitor. If you're wondering how to design a landing page, start with these basic rules:
Avoid creative, buzz words that mean nothing to your visitors.
If you can say it in one sentence, don't stretch it.
Include your main keyword in the heading.
The Importance of the Titles on Your Landing Pages
Make sure your title is clear and readable. Of course, you shouldn't avoid playing with words but each word needs to be carefully used within the landing page, from the title to the call-to-action button. Headings which let the visitor know immediately what the landing page is about will ensure the visitor stays longer which helps to convert him.
Landing WordPress Theme: Making it as Simple as Possible
This Landing WordPress theme allows its users to navigate in a simple way and enjoy the content on their page. Not to mention that the red colour of the call-to-action button truly invites you to react immediately!
2. Playing with Colors Motivates Users to Stay Longer on Your Landing Page
No matter what the nature of your business is, you can always decide to add a splash of colors to make it a bit more interesting and engaging. If you're uncertain on how to design a landing page, you can take a look at how other successful companies do it. One of these companies is Slack. They are always killing it when it comes to design, but this landing page is so captivating thanks to a clever color combination.
Slack: The Game of Colors is Company's Signature Move
They've written a fantastic, informative text for the entire landing page but the overall impression is much stronger due to the usage of turquoise and purple color. Also, they've managed to carefully implement their features and highlight them even more with such a great design.
3. Don't Forget to Create a Responsive Landing Page
Just a few years ago, it was enough to ensure your landing page has a terrific design and functionality to have a successful page. As the habits of the users and the market itself are changing, your landing pages need to provide so much more if you wish to drive signups. You will need to have a fully responsive design and if you think that's not that important, you couldn't be more wrong.
B-Crypto: 100% Responsive Landing Page
Your users are visiting your landing page from their smartphones, laptops, tablets, personal computers, etc. Are you providing them with the same level of experience, regardless of the device they're using? Take a look at the B-Crypto landing page example as it 100% responsive. It will be correctly displayed on any device you utilize and as it's one of the imperatives of good design, it will motivate your visitors to stick around and enjoy that experience a bit longer.
4. Bold Background Usage Will Help You Attract More Visitors
You might think 'What does a bold background has to do with my traffic'? Well, a lot. Readability is very important for landing pages as it affects the product and business performance. Would you be impacted the same way with a sentence written on a white background and on black? Of course, not. Unfortunately, psychology is not as simple as we like to think it is. When you're choosing colors for your landing page, you have to keep accessibility in mind all the time. Here are a few tips that might help you with that:
Test the fonts, images and icons on different devices before making a decision.
Different colors inspire different emotions and you should know why you are choosing a particular color.
Don't forget about the balance between the background and text.
5. Solve the Problem within the Headline
Why should somebody take a look at your product or service? What's in it for them? If you incorporate what problem does your product or service solve, it will engage the visitor and encourage him to sign up. After all, you can't expect a reaction from your visitors if they are unable to recognize the value you provide to them. You need to be aware that a headline can either drive a significant amount of traffic to your landing page or completely destroy the entire experience. Don't neglect its power! Check out the simple example of OptinMonster below.
6. Provide Your Visitors with Options on Your Landing Page
If you want to get more visitors to sign up, but you're uncertain on how to design a landing page to achieve that, start with creating different options for them. Don't go too far and create more than three or four options if you don't want your customers and prospects to get overwhelmed. Instead, create two or three main options for them to click on as soon as they land on your page.
BuildFire: Simplifying it for the Customers
Let them know you understand what they might be interested in and that your business is perfect for either of the provided options. Take a look at a great example by BuildFire, where they created two simple options with captivating images and engaging colors to attract more people to sign up.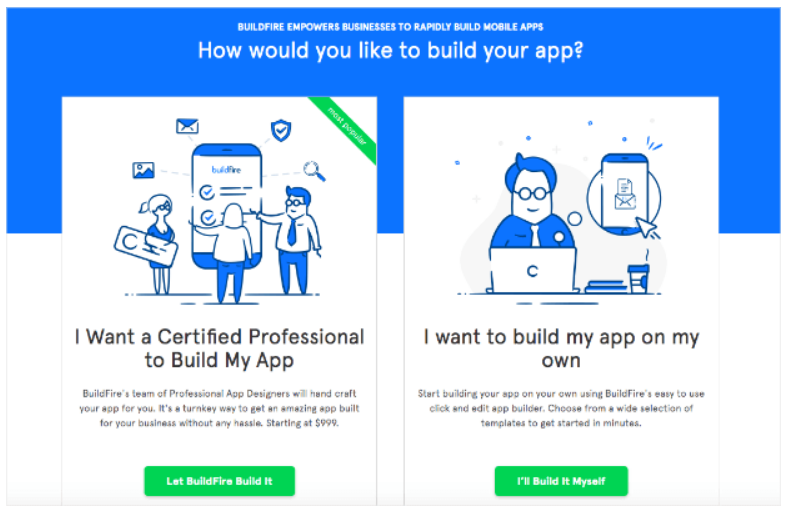 7. Your Landing Page Needs To Be Well Structured
Can a visitor notice a hierarchy of the information once he enters your website? Do you know which information needs to be placed at the top and which at the bottom of your landing page? The structure of a landing page is very important. Organizing all the elements in a logical sequence will keep your visitors to scroll down to the bottom of your landing page and also take the right actions while scrolling. Your landing page should have a structure similar to this one:
Catchy, informative headline
Engaging photo
Brief contact form
Features of your product or service
Customer testimonials or reviews
Codeacademy: Structured Website from Top to the Bottom
To sign up for Codecademy's membership, you simply follow the structure on their landing page and you immediately understand where you can get what you need. You have a straight-forward title, concise sentence and a noticeable call-to-action button. Simple as that!
8. Connect Your Landing Page with Social Media
Social media is huge these days. There's truly no reason for you to not include it in your landing page. This way, you can empower your business even more by inviting your customers and prospects to follow you on your social media accounts. When we're talking about social media integration, it means you should integrate your social media buttons to make it easy for visitors to share it or send it to their friends. Also, make sure you find room to place a 'Follow us' link somewhere as well. Just take a look at this great template Monster's Business!
9. Incorporate a Video on Your Landing Page
Each time when you're uncertain about how to design a landing page, why not try and say it all with a video? Video is one of the biggest trends right now not only in marketing but in the entire business world. Companies are utilizing it to increase the engagement and conversion rates on various profiles, so why not implement it on your landing page?
Outbrain: Explaining Products With Video Content
Determine what your key messages are and start delivering them through video. It doesn't hurt to mention that Google and other search engines adore video and will always place websites with video higher than the ones that don't have video content at all. You can even customize your call-to-action just like Outbrain did!
10. Use a FAQ Section to Save Visitors' and Your Time
If you neglect the importance of having a FAQ section on your landing page, you could risk having hundreds of people reaching out for additional information. To prevent this from happening, you should think about the most common questions your customers and prospects might ask and answer them all.
Drift: Increasing Conversions and Building Trust With FAQ
Did you know that FAQ sections increase conversions and trust among your target audience? The more transparent you are about your product or service, the more will people believe you. And in sales, you can't expect to close a deal without trust. Follow the example by Drift and start building that trust!
---
Joel Koh
Joel leads software development at One X Tech's Technology Management & Digital Solutions practice. He leads the firm's Asia Pacific office efforts in continually evolving and growing new capabilities to serve clients in technology-led transformations.